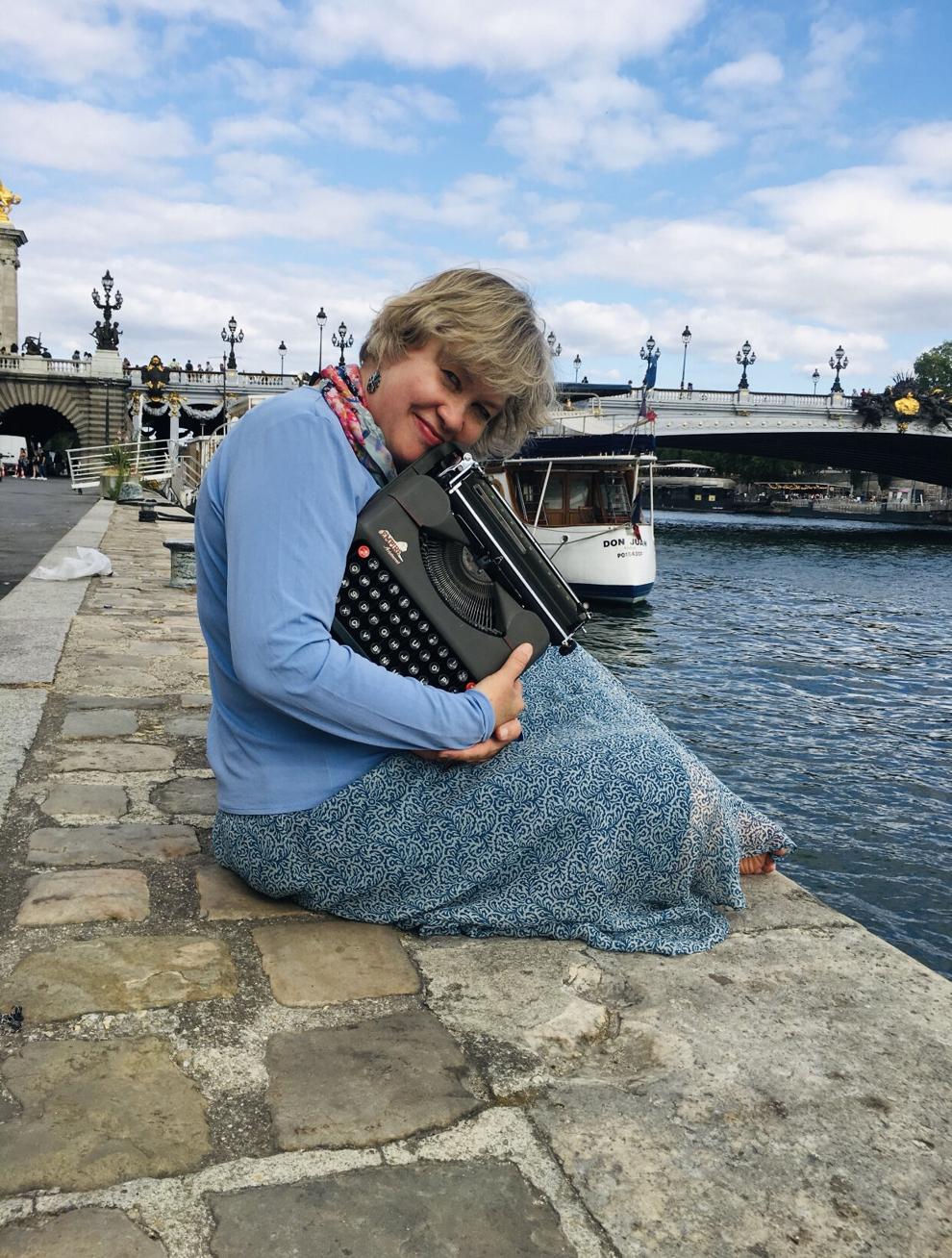 Though she gravitated early in life toward writing, Kelye Kneeland doesn't use her extensive collection of typewriters to tell stories — at least not in the conventional sense.
Since 2018, the Bellevue teacher has made use of her impressive stockpile to create vivid, strikingly photorealistic portraits. Now encompassing more than 100 pieces that take between 20 and 40 hours each to complete, Kneeland's body of work includes subjects from Eddie Vedder to Aretha Franklin, from Amelia Earhart to Volodymyr Zelenskyy. For Kneeland, asperands and ampersands are analogous to a painter's use of different brushes; a given portrait might feature the handiwork of up to eight typewriters, no different from a drawing's use of disparately shaded and sized pencils to achieve certain shadows and contours.
"I like tedious work if I like the final product," Kneeland said.
Kneeland always has been a creative person, but it took a few decades for art to take up as much space in her life as it does now. While growing up in the Northwest — a region around which Kneeland's family moved a lot, with West Seattle proving the longest stint — she often kept herself busy by drawing. Kneeland also loved writing, an outlet formatively uplifted when a teacher at her elementary school selected her and some other kids to participate in the school paper. Kneeland wanted to pursue art enough that initially, she figured she would go to an art college after high school. Her mother, though, was pragmatic, advising Kneeland to maintain art as a hobby while professionally pursuing something that would get the bills paid.
After some time in West Africa and the Philippines as part of the Peace Corps, and in France as a nanny, Kneeland first pursued cultural anthropology. But she found it "sort of boring." Eventually, she pivoted to teaching — a career she started at 30 and hasn't left in the ensuing three decades.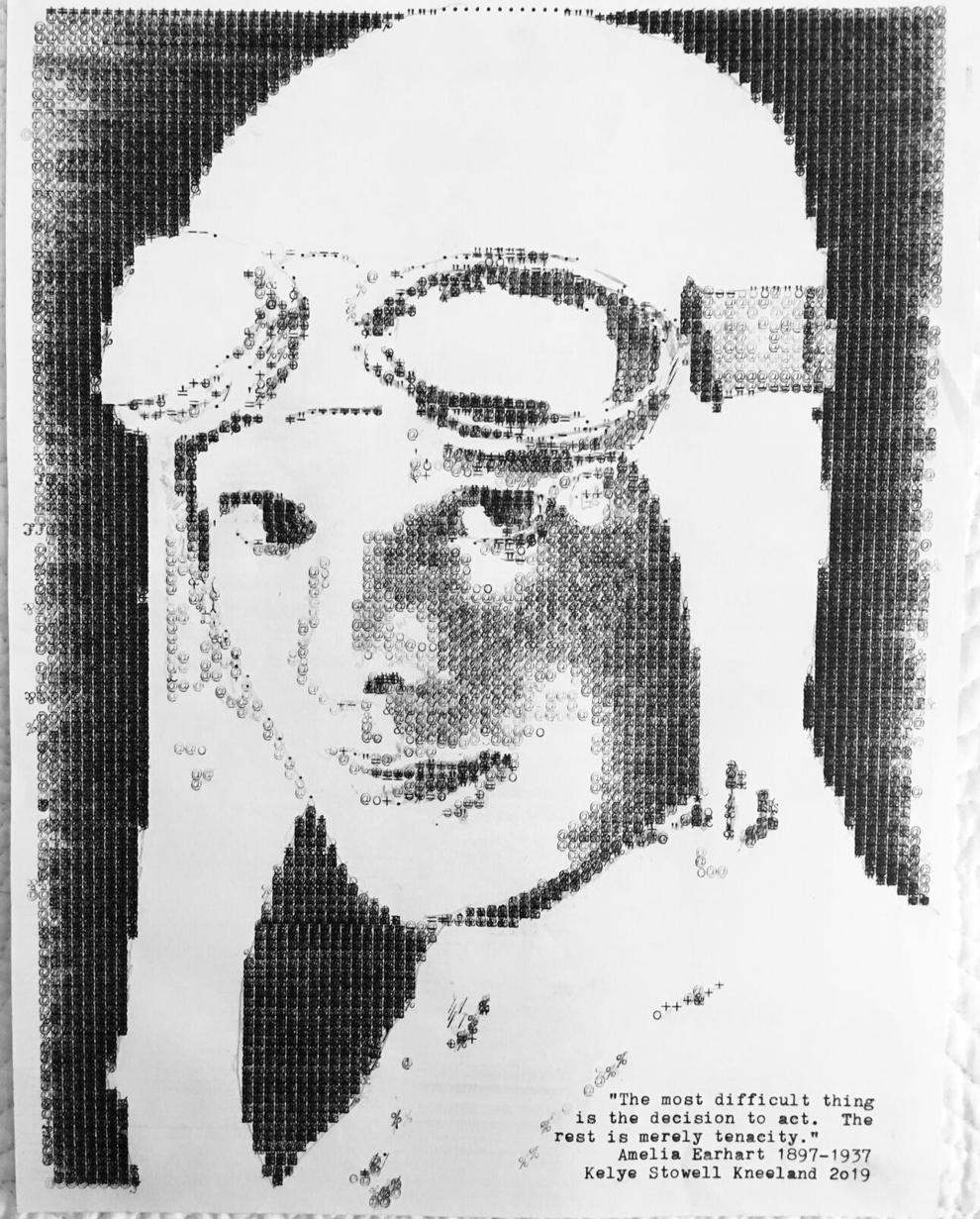 "It's been different every day and every year, but still, it's sort of surprising to me (that I'm still at the same job)," Kneeland, who teaches first grade at Spiritridge Elementary School, said. "I was always like the rolling stone that wanted to collect no moss."
Kneeland's typewriter art emerged from that job. One year, she had a student who hated writing and had a hard time sitting still. One rainy day, when the student opted to stay inside for recess, Kneeland gave him three options to pass the time — one of which was playing with the old college typewriter she kept in her room. That offering sparked something in the student, whose thrill by the sounds and movements of the machine soon translated into a newfound interest in writing.
"It was like an epiphany where I thought, 'Oh my gosh — I think I'm onto something here,'" Kneeland said. "'I have to get more of these.'"
Kneeland hadn't thought much about typewriters before. She got, for instance, a D in her high school typing class; growing up, she negatively associated the machine with the kind of office job she hoped she'd never get. But that changed the more she worked to hunt them down for her students, who, just like the boy inspiring the search in the first place, similarly proved electrified by it as a learning tool. After several stops at thrift stores and estate sales and garage sales, Kneeland cultivated enough for an entire classroom and worked them into her lesson plans. Most typically, if a student had written something by hand during the week, they'd get to "publish it" on a typewriter on Fridays.
The collection continued swelling to the point that Kneeland's husband wondered aloud what, exactly, they would do with all of them. Kneeland proposed artmaking.
"When I was in high school, I did pointillism art; I did portraits with little dots," she said. "They were incredibly time-consuming and very, very tedious. … The idea came to me that, maybe, you could type a picture just like you could draw a picture with dots."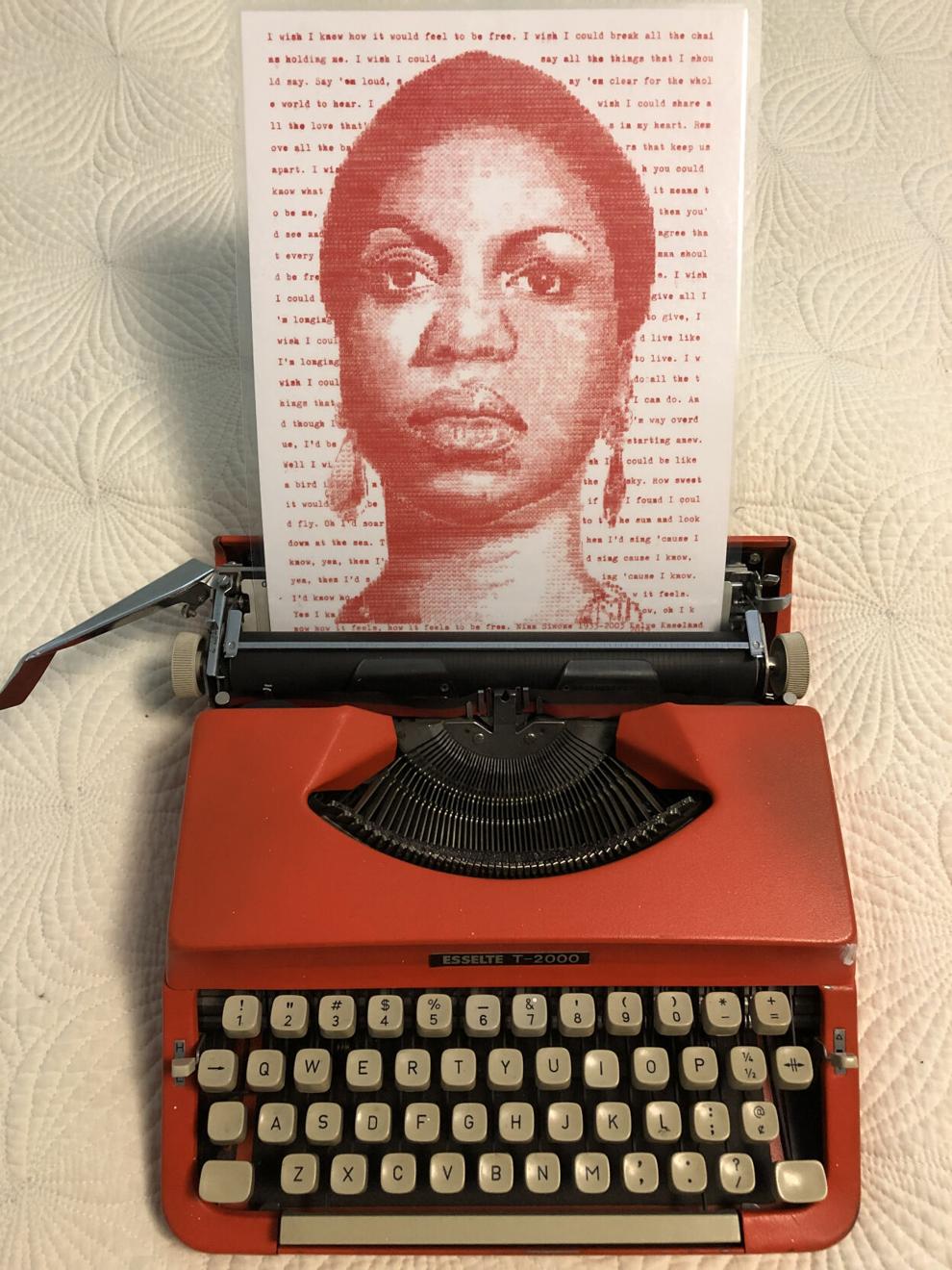 Kneeland's first attempt at typewriter art was a re-creation of her shadow as it appeared on the side of her house on a sunny day. Subsequent tries focused on other silhouettes before turning to more detailed portraits. She improved with diligence; Kneeland, who works from an art studio inside an outdoor shed, is a believer that, if you want to get better at something, you must practice every day. A good test came in 2019, when she spent a summer in Paris as a street artist — a rewarding leap she'll try again in a few months.
Kneeland also holds herself to extremely high standards, refusing tools like Wite-Out and retrying portraits multiple times until she gets a finished product she likes. Her devotion to her art now affects how she sees people: When she looks at prospective subjects or even her mother's face, she can't stop herself from imagining which symbols on the keyboard would best capture certain parts of their visage on a page.
Kneeland has parlayed her talent for good. Russia's invasion of Ukraine happened at the same time she was recovering from foot surgery, so, with her surplus time, she clacked a UNICEF-benefiting portrait of Ukraine's president, Volodymyr Zelenskyy, in three days — the fastest she's completed a piece. When Ruth Bader Ginsburg passed away, she made a portrait of the trailblazing justice to raise funds for the ACLU. Kneeland couldn't put a number on how many portraits she'd like to complete in 2023; more important to her process is responding to the current moment.
"I don't know what will be happening in the world that will inspire me to want to try and capture an image," she said. "When I go forward, I want to type things that move me, and move other people."