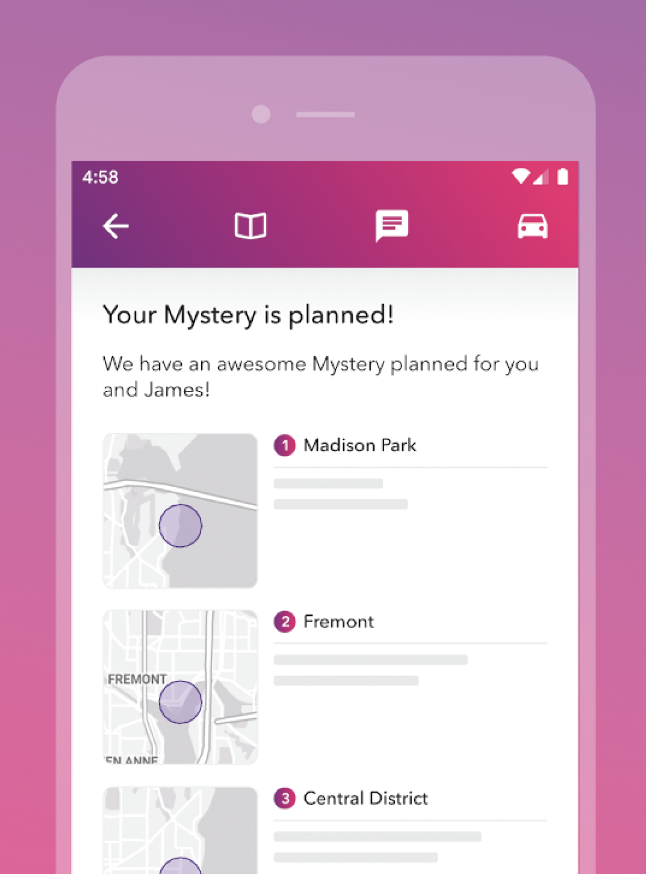 It's a Friday night, and you and your partner are — once again — staring down a long evening meant to be "date night" without much of a plan in hand. Dinner and a movie? Neither of you can find something in theaters that you want to see. You Google "fun date night ideas in (insert your city);" nothing really strikes your fancy, or there are so many options, you can't make a collective decision. Uninspired, you make a bag of microwave popcorn and fire up Netflix. Date night has become another night in watching Friends reruns. 
If you need a fix for the date night doldrums, download a new app called Mystery. 
Mystery is the brainchild of Shane Kovalsky and Vince Coppola, two early software developers at the now-billion-dollar tech startup Convoy. After years helping to navigate and operate the trucking industry marketplace at Convoy, the two left the company to start their own. 
Now they're in the business of planning and executing surprising, cohesive, and interesting experiences that take you to parts of your own city that you never would have discovered on your own. 
"For me, I thought the idea that would be most successful behind Mystery was the fact you don't know where you're going next — the mystery itself," said Kovalsky, explaining how the night is seamlessly planned so that a rideshare picks you up from a location of your choice and whisks you away, having no idea where you're going until you're there.
Here's how it works: Once you've downloaded Mystery, the app will ask you — and your date, friend, or group — a series of questions to build a preference profile, including whether or not you like loud environments, learning new skills, being outdoors, getting dressed up, and drinking alcohol. With that information about those who will be involved gleaned — as well as a general budget range — Mystery gets to work building a perfect surprise experience with a mix of algorithm-driven suggestions and human decisions. 
"It will never fully be an algorithm — there will always be a real person involved in planning your night out," Kovalsky said. "In many ways, Mystery is like that friend that knows everything in the city." 
In my case, that looked like an hour-and-a-half long cooking class at Bellevue's Sizzleworks, where chefs Carol Dearth and Ricky Flickenger walked our intimate class of seven — six of us were there via Mystery — through the recipes and science behind four different tapas recipes. It's nowhere I would ever have thought to take myself — and Kovalsky said that's exactly the point. 
"We pick locations you wouldn't necessarily know about unless you know someone who knows," he said. His personal favorite experience? A three-stop tour of Seattle's International District that includes a true hole-in-the-wall sushi restaurant, a sake tasting with a fourth-generation sake maker, and a pop-up bar in a soon-to-be-demolished hotel.
"Those are the Mysteries that are the most successful — the ones where we can tell a creative story throughout the night," Kovalsky said. 
Mystery dates are available throughout the Seattle area — with Bothell, Redmond, and Des Moines as the northern, eastern, and southern limits. Seattle proper has the most robust dates and partnerships with restaurants and experiences set in motion — the company is headquartered in Pioneer Square.   
Among those possibilities on the Eastside are now experiences like the cooking class at Sizzleworks, as well as cocktails and bites at Monsoon on Bellevue's Main Street.
Mystery delivers an experience that's over the top. Let's just say, it's better than anything you could have planned and beats another night of Netflix.