Finding love was the last thing on Dave Peterson and Julie Leonard's minds. Peterson, 67, and Leonard, 66, have both been married before. Peterson and his wife divorced a few years ago; Leonard is a widow. Both figured their chances at a second shot at love were less than low. They were content with their supposed fates.
One of Peterson's favorite hobbies is nature photography. Throughout the long months of quarantine, he often spent hours taking pictures of wildlife from his backyard, which overlooks Lake Washington. Like many photographers, he shared his work through Facebook groups — specifically Kenmore Neighbors.
Leonard, also a member of Kenmore Neighbors, saw Peterson's photos and requested some prints. "We met to review and pick out some photos for her, which took about 45 minutes. We then sat around and talked for another seven hours," Peterson said. A seven-hour conversation prompted a dinner the following evening. Their connection only got stronger. After a month of dating, Peterson and Leonard decided to move in together.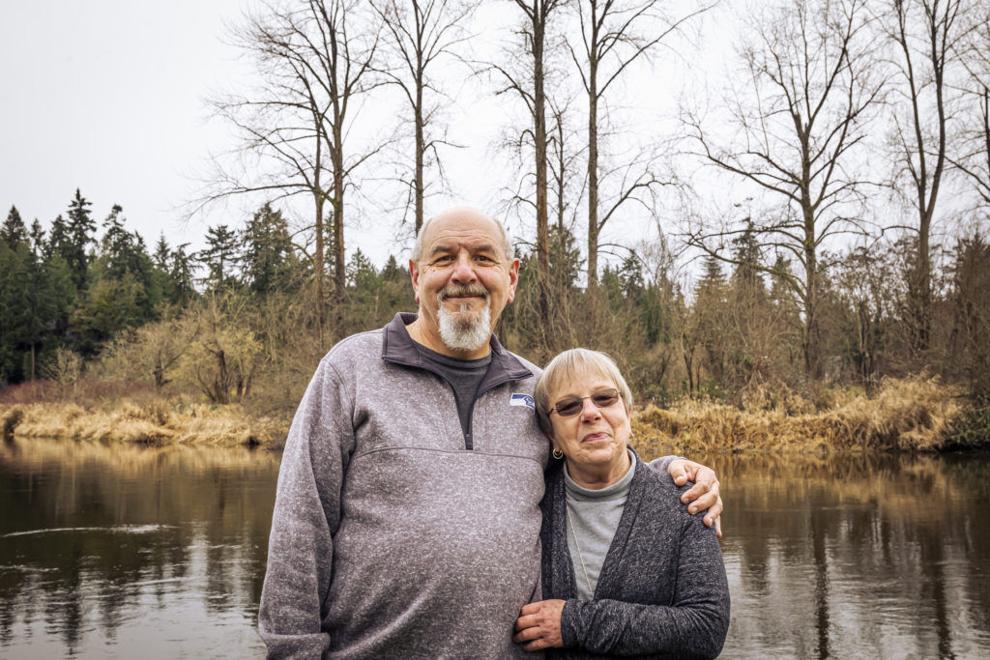 "Everything just clicked," Peterson said. "We both have a lot in common. We're both from the Midwest. We both have one child. We have a lot of the same interests … It seems like we know what each other is thinking before we even say it."
They both acknowledged that their relationship progressed a bit quicker than most. But after Peterson had a mild heart attack in early July — just three weeks after they met — Leonard was the closest person to take him to the hospital. So, it just made sense to them to live together.
They now reside in Leonard's Kenmore home, with her dog.
"You don't realize how lonely you are until you find someone to be with," Peterson said.
Peterson and Leonard celebrated their six-month anniversary in December. Living together has become a natural thing, Leonard said, even through quarantine.
They never forget that photography is what brought them together: About 25 of Peterson's framed prints hang throughout their home.
Kiss & Tell: More Love Stories Shared
Over the past few months, 425 has been collecting stories submitted via social media by readers about love during COVID-19. Here are those stories that will spur smiles and warm hearts, shared by the people in their own words and told by Madison Miller (including her own wedding story).
Quarantine Babies
TIM ROGERS, KIRKLAND
My wife and I both were sent to work from home early into this pandemic. I work as a tech contractor, and she works for a PR company in the area. We continued to go out with small groups of people early in March, and I distinctly remember sitting at JB Bungalow in Juanita with my cousin and her husband when the staff came and told us that this would be their last night open: They were going to be closing for indoor dining due to a state order.
We have gone through a couple of phases that I am sure others have experienced. We went through home projects, like building a work desk, refinishing some furniture, and cleaning out everything we didn't need to try and make it more organized. We also decided to get my wife a bike so she could go out with me to get some exercise.
Unbeknownst to me, my wife had gone to the store at this time and picked up numerous pregnancy tests because she had become suspicious that she was pregnant. (One) night, I took it upon myself to order food and drinks from JB Bungalow. When I arrived home with the food, I laid it out on the table and handed her the cocktail I thought she would like most. "You are going to have to drink both of those tonight," she told me. I looked at her puzzled, then blurted out, "Are you pregnant?" And she started nodding furiously. Then happy tears were shed as I joked about needing to remove all sharp objects from the apartment.
As we cautiously wait for this child to join us in the world, we have been greeted by the fantastic news that three other couples in our friend group are having their own first children. We decided to make them our quarantine pod since we would have so many experiences to share with them in the coming months. The first (was) due in January, then us in February, followed by March, and April. It may be that we celebrate holidays with them instead of our own family until this ends and we can expand our circle again.
As everyone struggles to handle familiar obstacles during an unfamiliar situation, it has been incredibly tough trying to explain to parents and grandparents that we may need to be strict with the visitation of this child until this virus is less prevalent.
Staying the Distance
LYNN GALUSHA, NORTH BEND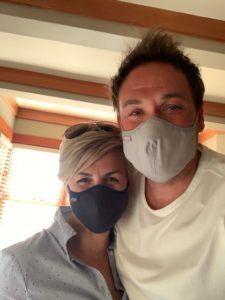 My long-term boyfriend and I were separated by the U.S./Canada border when it closed in March 2020. We went from seeing each other weekly to meeting up at a park once a month, with him coming to North Bend every couple of months. We see each other on FaceTime multiple times a day. When we can align our schedules, we meet at the Peace Arch Park in Blaine. Our day is spent hanging out in a tent. It isn't very glamorous, but at this point, it's a great option to safely see each other in person. When he can come here, he always has to quarantine 14 days in return. All the burden/cost has been put on my boyfriend, since I'm not allowed to enter Canada.
Since the border closed, he cannot drive, like he normally does.
My boyfriend and I are also part of an amazing group called Faces of Advocacy. The organization works on behalf of families separated by the border closure. Without them, there would be no extended family exemptions that helped my boyfriend and me.
COVID-19 Weddings
ERIC FOSTER, SNOQUALMIE
The journey toward our nuptials started at the beginning of 2020, when we decided to get married on a beach in Mexico. We planned it for Valentine's Day weekend for (this) February, which coincidentally aligned with the Snoqualmie School District's winter break.
Our family is a modern-day Brady Bunch. We have two girls (ages 13 and 12) and two boys (both 9). We felt like a party on the beach was the best way to celebrate a second shot at love.
Out went the invitations in late February of last year. But by mid-March, obviously, we were in quarantine. My wife was fully committed at this point, so we held on through summer. But by the time September rolled around and schools stayed closed, we threw in the towel and went to plan B.
We have a little family compound with my parents in Leavenworth and decided to do the "outdoor thing" there in December. My wife quickly pivoted from summer to winter mode. She planned this amazing Christmas-themed ceremony and a small reception. We sent out a new official invitation — this time to a tent on a lot in the woods. We hoped for some snow and a clear night, with a bonfire and plenty of lights.
Then came the next announcement in November that things were tightening up again. So, we canceled the Leavenworth plan and did some soul searching.
Then came the epiphany — the garage, our yard, and Facebook Live. We pivoted again and set a new date for Dec. 5. Within two weeks, we planned and executed a wedding from our entryway, with our parents and kids and a crazy dog and cat in attendance. Friends came over and stayed socially distanced in the yard. We streamed the proceedings live on Facebook.
It was pure magic — a celebration of love and light on an otherwise-dark December night. The outpouring of support has been incredible.
MADISON MILLER, KIRKLAND
My husband, David, and I had been together for three years when the pandemic hit. We were engaged and were planning to get married in October 2020. I was still living with my family in Kirkland and working as a local arts and education reporter, and he was working as an assistant manager for a local drugstore in Edmonds. Before COVID, we would see each other about twice a week as our schedules would allow.
We were content and were excitedly planning for our big wedding in the fall. But when COVID-19 hit, everything was suddenly up in the air. Over the course of just a few months, I lost my previous job, we postponed our wedding, and we were no longer able to see each other in person. My family is immunocompromised and, with him working in retail during the height of this unknown deadly virus, we knew it wouldn't be right to see each other.
We got really good at virtual dates. We Skyped every Saturday and talked on the phone almost every night. Aside from just chatting, we played virtual board games, watched movies and shows, and shared meals.
As the months passed with no sign of the pandemic improving, it was clear there was no way we could have the wedding we were originally planning for. We considered postponing it indefinitely, but we didn't want to put this on hold for possibly one or two more years. Eloping was a tempting thought, though both our mothers might have self-combusted had we done such a thing. So, we finally decided to have a small ceremony with just our immediate family members (all wearing masks) in his parents' backyard in Bothell.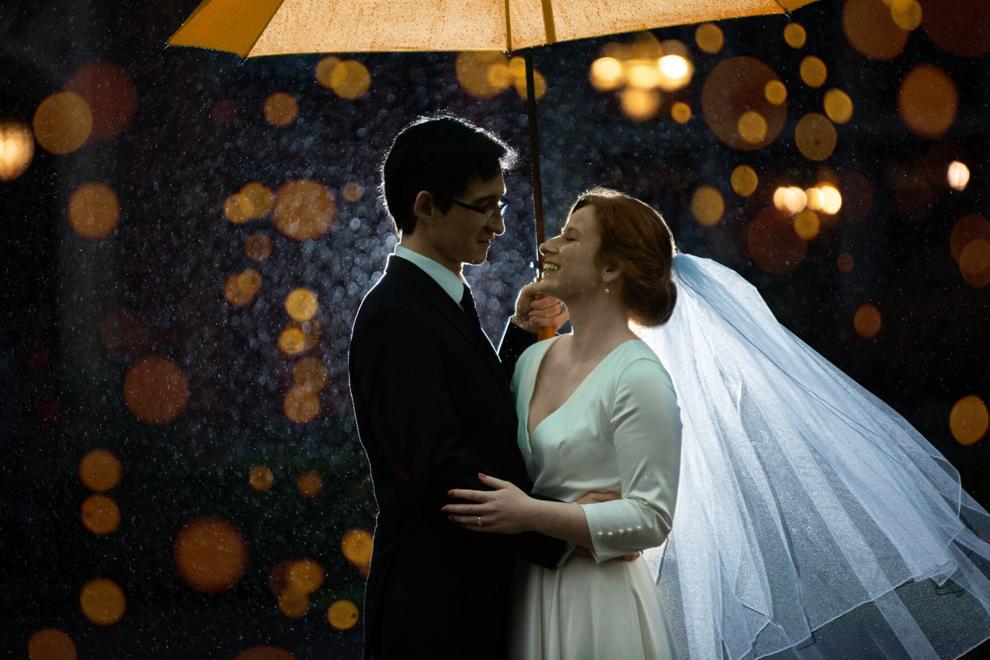 And it was wonderful.
Though it was raining and cold, though there wasn't a big reception, and though it didn't look anything like we thought, it was perfect, thanks to the support of our families.
It was a long seven months. Our last in-person date night was March 12 — just before the shutdown. We didn't see each other again in person until Oct. 11 — our wedding day. We're still quarantining. But at least we're doing it together now.
Found Love
JEFF HOYOPATUBBI, SNOQUALMIE
We both went to Snoqualmie Middle School, Mount Si. High School, and Bellevue Community College. We were in the same grade but hardly spoke to one another. Shortly into lockdown, were connected over Facebook with a simple friend request. A nervous "hello" was followed by a "hey dude" — and that "hey dude" quickly became one of the most genuine and organic conversations we both had ever had.
The conversation turned into page after page-long Messenger exchanges. Sometimes, we even hit the Messenger message character limits — we didn't know before this there was even a limitation! At one point, we had to write messages in Microsoft Word and paste parts of it into Messenger so it could send the whole response. After we exchanged phone numbers, we began to have two equally long-length conversations going. We brought both of our pasts out into the open; we were fully exposed in a vulnerable state of openness. Trying to take things slow seemed like more of a challenge as our souls were seemingly becoming magnetized to one another.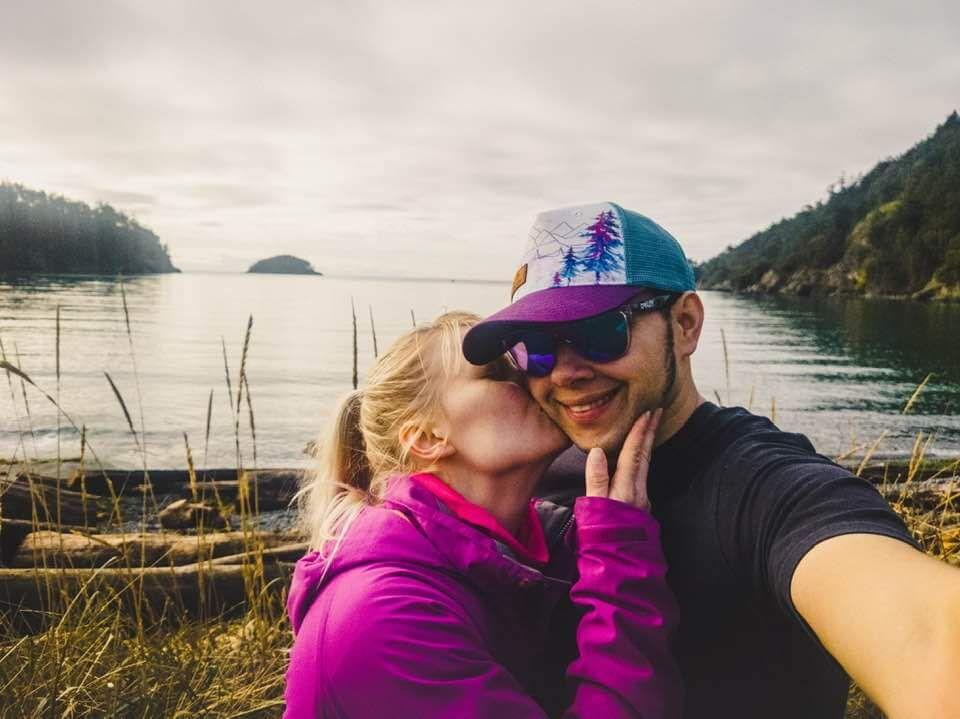 In getting to know each other, we found the list of common interests and similarities in personality traits to be very long — and it continues to grow each day we get to spend time together.
Since that friend request a few months ago, we spend almost every day together and support each other as needed. The openness, communication, and trust that have been built are the foundation for our relationship to last a lifetime and beyond.
Lonely Hearts Club
Eastside Matchmakers Weigh In 
Many people are going through quarantine solo. Ali Migliore, the co-founder of Simply Matchmaking, said she and her husband, Matt (who's also a co-founder), saw a huge boom in their business a few months into the government shutdown.
The Bellevue-based husband-and-wife match-making company has been going strong since 2005. But when the COVID-19 shutdowns began in March, Migliore said, clients were putting their memberships on hold.
"Everyone was terrified at first," she said.
However, as the months passed and people came to understand and accept what was happening, she said memberships began to climb.
"It was around May when things started to turn around," she said. "People were getting used to quarantine and realized that love was a priority."
Simply Matchmaking works to help people find serious and meaningful relationships. Clients come from all walks of life. The only limitation Simply Matchmaking imposes is an age range, which begins at 21 and ends at 89.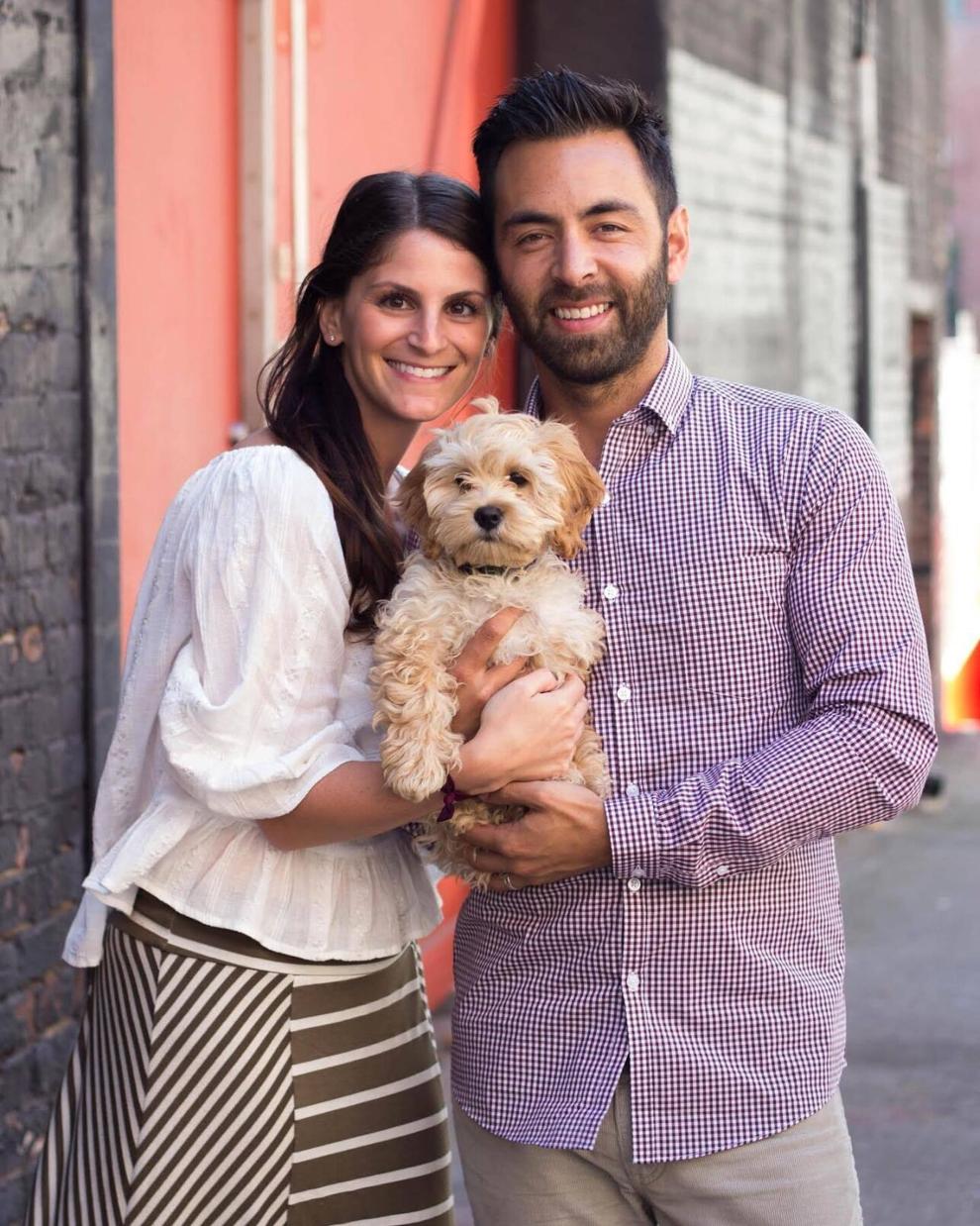 Each client answers a lengthy questionnaire and participates in a 90-minute interview. Once a match has been made, dates are made. Most dates before COVID involved events, going out for dinner and/or drinks, and more.
"Our clients got creative (since COVID)," Migliore said. "They really made the best of things and have been able to plan fun, romantic, and safe dates."
Most dates during COVID are virtual. If both people are comfortable, an in-person, socially distanced meeting is set.
"Some have been going on socially distanced picnics in the park or riding bikes together," she said. "It's been great to see how people can still be romantic during these times."
Dating might not be on everyone's agenda. Whether it's the timing or not knowing where to start, Migliore advises people to begin by understanding where they are in their dating journey. "If you want to meet and be ready for your for-ever person, know that love has not been canceled," she said.
Ali Migliore's 5 Tips for Virtual Dates
1. Have it at home. You want to feel comfortable.
2. Set up your background. If you have a nice view out of your window, angle the camera so it shows. It might become a good conversation starter.
3. Think about your camera angles. All the time, I see people have the camera too low, and it's not the most flattering angle. Try having the camera set so it's at your eye level or just slightly above.
4. Lighting. Make sure you can be seen! Test the lighting, and make sure you are well-lit.
5. Change your outfit. After all, you are "going" on a date. Look your best.