Fortress Development announced it has officially broken ground on Avenue Bellevue, the condo, hotel, and retail project located in Downtown Bellevue.
An official groundbreaking ceremony celebrated the milestone on Sept. 18 with Bellevue Mayor John Chelminiak and members of the city council and city planning staff in attendance.
"The Avenue Bellevue project combines business, residence, and recreation opportunities in a unique new space for Bellevue," Chelminiak said. "Not only will Avenue Bellevue add housing for our growing city, but it will also create hundreds of new jobs and provide a new center of community and leisure for residents and visitors. I am pleased to participate in the groundbreaking ceremony of such an exciting project."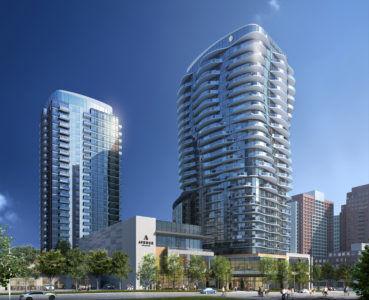 The billion-dollar project includes high-end retail, food and nightlife, housing and hotel rooms, event spaces, and more.
At the groundbreaking, further details emerged regarding plans for the West Tower, the second of two towers in the project. This development, expected to be completed summer 2022, will contain residences similar in style and configuration to the South Tower, and amenities like a private fitness room, an exclusive lounge above the Avenue Bellevue Plaza, a valet service, and an app that allows residents to control services through their mobile devices.
"My ultimate goal with this project is to set a new standard of living in Bellevue — for our buyers as well as (for) Bellevue residents like me," said Andy Lakha, CEO and Principal of Fortress Development. "We are doing more than transforming the Bellevue skyline with this new development. We want to raise the bar on every level — through the architecture, design, amenities, lifestyle, and overall experience — to create something truly special for this city that I know and love and call home."