No one seems to remember Sam's last name, but he's still making an impression decades later — and now Sam's Tavern is open in Redmond.
Though Sam's Tavern is new to Redmond, the style and flair may seem familiar. If you look closely, you'll see a hint of Red Robin running through its family-friendly ambience. Even its name is a tribute to Sam, the owner of the very first Red Robin restaurant, which opened in the U District in the 1940s.
Owner James Snyder — son of the first Red Robin franchisee — knows the story well. Sam, whose last name has been lost over the years, not only ran the well-known tavern; he also sang in a barbershop quartet. He often sang, "When the Red, Red Robin Comes Bob Bob Bobbin' Along." He liked the song so much, he changed his tavern's name to Sam's Red Robin.
The Red Robin moniker stuck, and Sam's name was lost until Snyder resurrected it.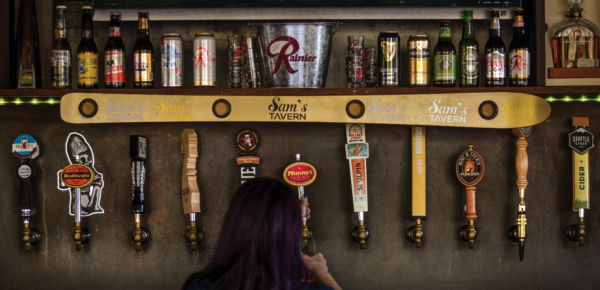 He opened the first Sam's Tavern in 1,500 square feet of space on Capitol Hill in 2012. He later opened another in South Lake Union. The Redmond addition makes for the third Sam's Tavern in the Puget Sound. He also co-owns Canterbury Ale House on Capitol Hill with his business partner Mike Meckling.
It may come as no surprise that the son of restaurant franchisees entered the burger and beer business. But Snyder has not followed the traditional path.
He spent little time as a youth in Yakima washing dishes, bussing tables, and taking orders at his parents' restaurant.
"I wasn't a very good server," Snyder admits. While attending Seattle Pacific University at age 22, he opened a College Pro house-painting franchise.
With 13 employees and $100,000 in yearly sales, "It was much harder than running a bar," he says. "I had to interview people and incentivize them. I didn't know what I was doing."
Though difficult, he says it was great business experience. It gave him the knowledge he needed for what he would eventually become: a restaurateur.
After leaving a management role at College Pro, he helped his father Steve open five Sonic Drive-In restaurants. That's when he knew he was ready to begin his tavern-owning venture. He had a business plan and business experience and could open a restaurant. He owned a condo in Seattle that he could borrow against. All he needed was capital to get the project started.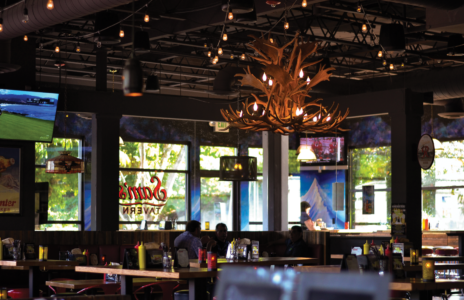 "I went to eight or nine SBA-approved banks," he says. "They all said no."
Undeterred and unwilling to ask his parents for a loan, he sold his condo. Using the proceeds from the sale of his house, he was able to open his first Sam's Tavern.
Only after proving he could be successful was a bank willing to work with him. He now regularly works with Banner Bank.
Snyder may not have learned the nuts and bolts of burger flipping from his parents restaurants, but he did learn the valuable lesson of treating your employees, or team — as he calls them — well.
He remembers being at the restaurant regularly and seeing how the employees revered his parents, and how his parents showed their employees respect.
"My parents taught me how to take care of people," he says. "I think we do that with our team. We really trust them, and they trust us. You have to have both."
His wife, Brianna, is a big part of that, he says.
"She is the most important piece of this," he says. "Without her, none of these Sam's would be here."
When the two met, Brianna was a bartender.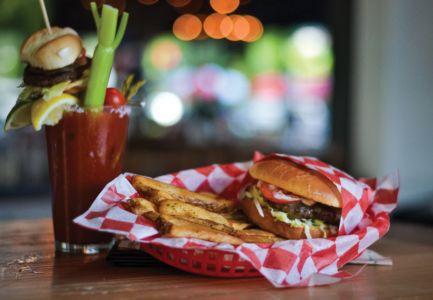 "The best bartender I've ever seen," Snyder says. "She had this energy that would build regulars." She also connects with the staff by participating. She works at the restaurants and still tends bar.
"She can connect with people at their level, and our team really appreciates that," Snyder says. With the help of Brianna, Snyder feels like he has found a recipe for restaurant success — being hands-on.
"My parents taught me how to take care of people," he says. "I think we do that with our team. We really trust them, and they trust us."
Their strategy is to open an establishment and then spend all their time there until they open the next one. That way, they can train their team on their expectations and be there to learn and react to any mistakes that may come up. For example, the South Lake Union location had triple the volume of their original tavern. They had to learn how to deal with the increased volume on the fly.
Redmond is the only location that is child-friendly, and that's because after opening, they realized they were turning away 10 families a day. "We thought, 'What are we doing here?'" he says. "You have to make adjustments as you go and be flexible."
Being hands-on is the solution, he says. If you aren't there, you can't teach the staff the expectations, and you can't be there to work out the kinks.
"It's the only way we know how to do it," he says. "We aren't building too fast. If we open about one a year, we feel comfortable." 
When you go:
Sam's Tavern in Redmond is the only Sam's that offers family dining. It also offers wild bloody marys, lots of burgers, and endless steak fries. For dessert, try doughnut holes with cinnamon and sugar and cream cheese frosting!
15740 Redmond Way, Redmond 
425.861.7246
All locations are open daily
from 11 a.m. to 2 a.m.