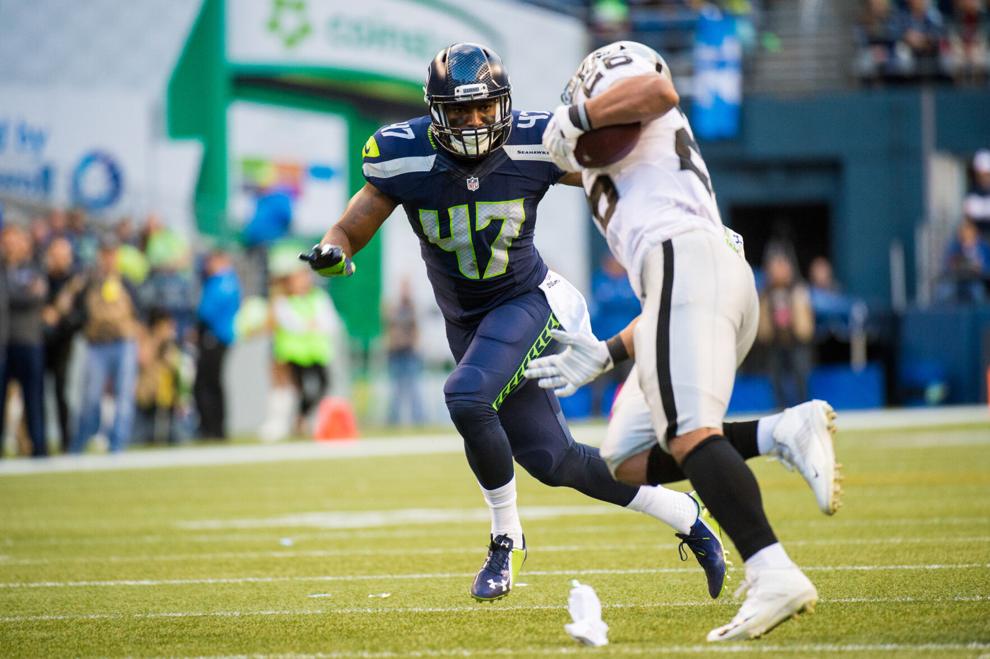 Eric Pinkins has overcome great odds to become a member of the Seahawks, yet he won't be completely satisfied until he has reached the ultimate goal he has set for himself; to be the best linebacker in the NFL.
The odds have been stacked against him. In college he didn't receive accolades — no invitation to bowl games for college prospects, and more importantly, no invitation to the ultimate stage — the NFL Combine. His only chance at getting noticed was his university's (San Diego State University) pro day where anyone on the team could come out to participate in combine drills. He looked at all the best times that were tested in the combine, wrote them down on a Post-It note, and stuck it on his mirror. Up until pro day, Pinkins would wake up, look at the times, and get to work to achieve those numbers. That day finally came.
He displayed a sensational 4.44 seconds in the 40-yard dash, an impeccable time for someone of his size, 25 reps of 225 pounds for the bench press, and recorded a vertical leap of 39.5 inches. Pinkins began gaining notoriety among various organizations around the league; including the Seahawks.
In May of 2014, Pinkins watched the draft with his mom in a bar in his hometown of Sacramento, California. And then it happened – the odds stacked against him fell to the floor. The reigning Super Bowl champions picked him. He grew anxious as time went on. It wasn't until the last pick in the sixth round on the last day when Pinkins got the call from head coach Pete Carroll.
"I was getting a little weary like, am I even gonna get picked up?" Pinkins recalled. Once he was drafted, "that's when everything stopped and my mom broke down and started crying, it was a beautiful thing."
The dream he had since Career Day in middle school was turning into reality.
But like anything amazing – it wasn't going to be easy.
In 2014, two days before his first training camp, Pinkins was training with current pro-bowl safety for the Seahawks Earl Thomas when he made a quick turn. A shooting pain shot throughout Pinkins foot which was later revealed to be a hairline fracture on the side of his foot.
Pinkins chose to get surgery which would keep him out of training camp and put on the Physically Unable to Perform (PUP) list. From there, after his injury had healed, he was placed on Injured Reserve (IR) for the remainder of the season as he watched his team fall short in painful fashion against the New England Patriots in the Super Bowl.
The following year was filled with many ups and downs. At the end of last year's training camp, Pinkins was cut due to the tough transition of moving from defensive back to linebacker. But he was quickly re-signed to the practice squad where he excelled. After impressing the coaching staff, he was put on active roster and was featured in six games on the special teams unit.
"I have a lot of confidence in myself and a lot of confidence in my ability," Pinkins said. "Whatever position I get put in I'm gonna make happen regardless."
Off the field Pinkins also gives his all to the Seattle community. Probably the most important quality in his arsenal is his selflessness. Pinkins isn't a widely recognized player so far in his career but that hasn't stopped him from making a difference in people's lives; especially when the outside world isn't watching.
Last November, Pinkins had a yearning to go make sandwiches for the homeless. At the time, his then girlfriend and him went to Walmart and bought bologna and other sandwich ingredients. They went through downtown Seattle and handed out over 100 bologna sandwiches to the homeless. There were no cameras, no media, and no recognition. He did it because that is just the sort of thing that makes him happy.
"I'm that type of person, like if I see somebody and I have some change in my pocket, that guy will be the first to get it," Pinkins said. "I don't like seeing people going hungry."
One of the people he encountered that day was a homeless man who wrote poems. One of the poems the man wrote seemed to resonate perfectly with his own journey to the NFL.
It read: "Keep looking at the stars even when it's dark because there's always gonna be light in the dark," Pinkins paraphrased. "That really stuck with me."
Pinkins keeps looking up as he enters training camp hoping to further his career on the team that has faith in his abilities.
"It's kinda surreal … You just look across the field to look at your opponent … as a kid that always gave me goose bumps," Pinkins said. "That gets me every single time, even to this day."