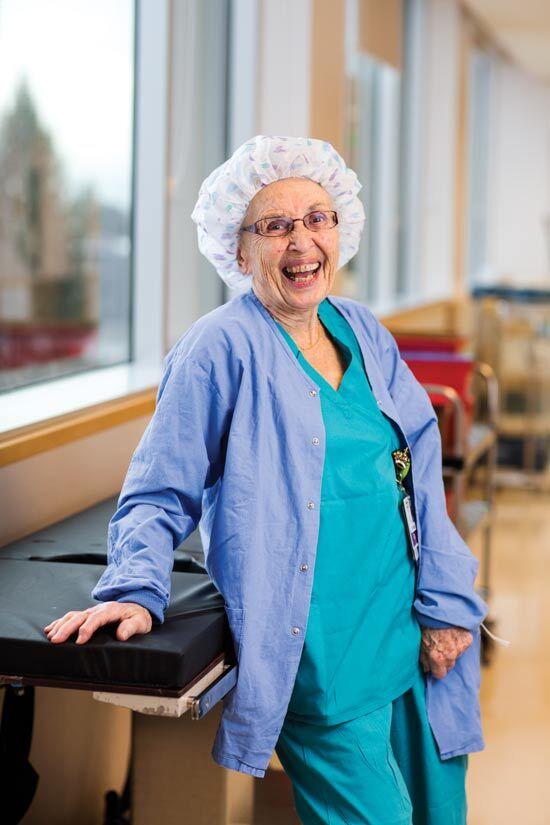 Florence "SeeSee" Rigney is the oldest working nurse in the United States. Last May, a video of her 90th birthday celebration went viral. The recording captures her in blue scrubs and a bedazzled "Happy Birthday" tiara holding back tears among her cheering colleagues. For 70 years she's worked on and off as an operating room nurse at Tacoma General Hospital. When she first started, she got paid $115 a month. These days, she gets a ton of attention for being a high-energy, compassionate nurse who still moves down the halls of the surgical unit faster than women a third her age. In 2015, Rigney was on The Dr. Oz Show and nominated for a March of Dimes Nurse of the Year award. Her birthday video was shared by The Huffington Post, The Today Show and BuzzFeed. She admits she feels a bit like a local celebrity even though she's bashful about all the publicity. "I feel very honored to think that all of this has happened to me just because I turned 90, and I'm still here!"
Q: What made you want to be a nurse?
A: I really don't know, but it was something that I always wanted to do. My father did not want me to be a nurse. In fact, he was very reluctant to even give me money to pay the tuition. He thought I should go to business school and be a secretary.
Q: What was your uniform like? Did you wear a skirt?
A: When I first started as a student nurse and worked in the operating room, we wore dresses. They were white scrub dresses. And then we had turbans that we wrapped around our heads.
Q: What was it about the operating room that you always enjoyed?
A: I don't know. It was kind of exciting … Now that I'm 90 years old I don't stay in the room for the whole case. I'll go and get patients; I do setup and help get the patients on the table. Go in as relief for coffee and for lunch breaks.
Q: I hear that you run circles around people here.
A: Well, that's what they say. I don't like to sit and I do move quickly. But I've always done that. That's my nature.
Q: So, there's a video of you on your 90th birthday that went viral.
A: My granddaughter said, "Grandma! It's gone viral!" And I'm thinking of a virus. I don't do Facebook.
Q: But you have seen the video?
A: Oh heavens, yes. At first it was kind of embarrassing. You can't imagine the people I have heard from all over the United States. And the cards that I've received! I've heard from someone in London, England. I've heard from someone in India.
Q: Any advice for younger nurses?
A: Don't ever think that you know it all. Because I kind of did that when I was in the operating room … you have to always be open. You never stop learning.­