This story, like so many other medical stories, begins in a doctor's office — waiting.
Waiting to have a nurse call you back.
Waiting in a chair that was placed in a tight row with other women who also are waiting — waiting to get their results.
One year ago this month, my mom, Nancy Rowe, now 57, was screened for breast cancer. While she waited in the lobby of the Breast Diagnostic Center in Federal Way for the results, she watched as other women filtered out of the office, tears in their eyes and pale, pink roses clutched in their hands. When my mom was handed a rose of her own, she knew what it meant. And the life she previously had seen for herself splintered.
According to breastcancer.org, 1 in 8 women in the United States will develop invasive breast cancer in their lifetimes, and 316,120 new cases of breast cancer in women were expected to be diagnosed this year. The statistics are relatively high, yet few people think it will be them, their mother, their grandmother, or their sister.
October is National Breast Cancer Awareness Month, and this is the first of a four-part series I'm writing about my mom's experience with the disease.
Stay tuned for week two.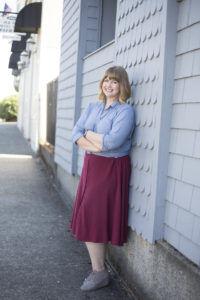 From My Perspective
A woman at the Puyallup chemotherapy treatment center looked about 10 years older than my beautiful, youthful-looking mom. The woman's weariness was deeply imprinted in her face by wrinkles that ran like small creeks and tributaries around the corners of her eyes and lips. Her baldness was covered by a pink, knitted beanie, but the absence of her eyebrows made her eyes look sullen and tired.
My mom smiled brightly at her, the way she does at most strangers, while we waited to be called back for my mom's first treatment in early December 2016. I'm sure it was hard for my mom to look straight at her future. Her shiny platinum hair with wisps of warm chestnut color was still styled and intact. Shortly after my mom's second chemotherapy treatment, my sister, brother-in-law, and I came over to shave her head. She didn't cry, but her hair was the one thing she had hoped to keep through all of this. Hair is just hair, until cancer comes along and takes it from you.
When Mom had called me a few months prior to tell me she had stage three breast cancer, I was living with my husband in a little one-bedroom apartment in Jefferson City, Missouri. I was working as a newspaper reporter, and he was in the U.S. Army stationed nearby at Fort Leonard Wood. I remember how calm my mom was. She must have been scared, emotionally raw, but her voice was so steady. I expected her voice to crack, for her to struggle through the conversation. My mom, who is easily shaken when talking about her late parents, didn't have any tears for herself. She wasn't going to let this take over her life, and she already had a treatment plan laid out.
I don't know if there's a good time to get cancer, but for me, it made coming home after a year away feel like perfect timing. I'd moved to Missouri in the fall of 2015 after graduating college, and my husband's Army career was bringing us back to the Evergreen State, where both my parents live. We would be returning days before my mom's first chemotherapy treatment and living with her for a while until we found our own apartment.
I expected the weeks we lived with her to be an emotional and joyful reunion. And it was, but it also wasn't. Taking care of a sick parent is exhausting and frustrating. As a 23-year-old returning home, I wasn't cut out for it. We fought and I struggled to do things to help her. After living apart for several years, it was difficult to be back under the same roof — with a new husband and two pets, nonetheless. Her pain was far beyond anything I could help with after her first chemotherapy treatment. We later realized that her allergy medicine had reacted badly to the treatment and was causing unbearable pain that kept her up at night and made her restless during the day.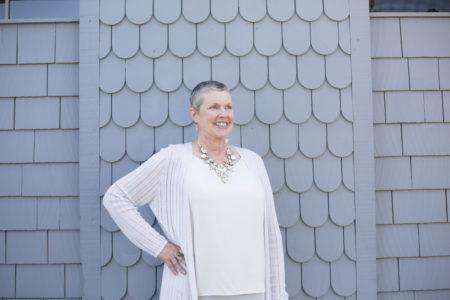 But it got a little easier — not all at once and not every day — and it became something we lived with. Chemotherapy once every three weeks with daily shots that followed was just something she had to do. I tried to make it to her chemotherapy appointments, and I think that was therapeutic for both of us. I was struggling to find work as a journalist in the area, so we sat in the treatment center eating chocolate cheesecake, talking about what I was going to do. We talked about my husband adjusting to the area, how my stepdad was doing, and the baby my younger sister was about to have.
My mom and I are close, and in this last year we've become much closer. We're making more of an effort to see and talk to each other instead of letting months pass before she inevitably calls to check in. Most everyone in her life stepped up to support her. Her co-workers at EcoLab in Tacoma made pink bracelets that read "Team Nancy," and handed them out to everyone in her office.
Now a year has passed. I almost can't believe it. In June, she had a lumpectomy to remove the cancer and was told she's cancer free. Cancer free. Decades ago that wouldn't have been possible. Following the lumpectomy, she went through several rounds of radiation. Her last radiation treatment was in July, and her last chemotherapy treatment is in December.
Even after this rigorous process is over, she likely won't feel the same as she did before. Her eyesight has dimmed, her short-term memory is fuzzy, her hair is gone but is growing back. She told me she's lost some of her self-confidence. I can understand that, but as an outsider looking in, I think she's become the strongest, most beautiful person I know. To me, she hardly skipped a beat. She's missed some things this year, but her positive outlook — something that always has inspired me — is still there.
If you meet my mom, she'll give you a genuine smile just like the one she gave to the woman we met at her first chemotherapy treatment. I know she must have been terrified. I think we all were. None of us knew what to expect. But here we are, one year later. And life goes on.
Next week is a Q&A with my mom. We sat down over burgers and drinks in Point Ruston and talked for the first time about how she felt this year, offering in-depth and emotional insight into how it feels to go through breast cancer. In the coming weeks, I talked to doctors with the Seattle Cancer Care Alliance about how oncologists are battling cancer differently than they did in previous decades and new options for reconstructive surgery. The final segment tackles life after cancer. Even though treatment is over, you might not feel like yourself for a while.